2024 COLLECTION
SPECIAL EDITION LIMITED AND NUMBERED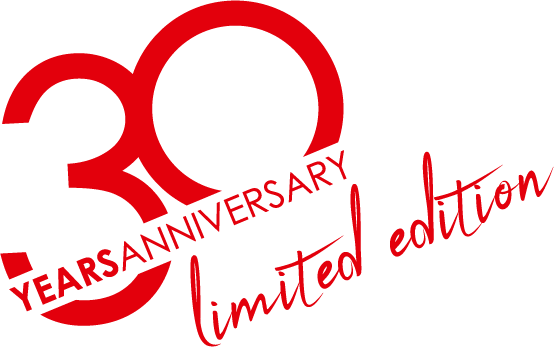 JET & FULLFACE E22-06 double certification.
Carbon technology for an outstanding helmet
ROOF BOXXER 2 CARBON HELMET THIRTY

The manufacture of a 100% apparent carbon shell 100% is a technical feat allowed thanks to the remarkable know-how of our manufacture.
The carbon, one of the most prestigious materials, is combined with the nobility of genuine leather sublimating the comfort of the ROOF BOXXER 2 CARBON motorcycle helmet for a superior comfort. Its red stitching and black anodized screws add a subtle and luxurious touch to this helmet.
The uniqueness of this special edition is enhanced by the extra antiscratch 100% solar visor supplied as standard and by the ROOF backpack.
BOXXER 2 CARBON THIRTY will be proposed in only 1000 copies, all embroidered and numbered on the chin strap.
It is available only in size 56 (S), 58 (M), 60 (L) or 61 (XL). Discover it as from mid-December at ROOF partners retailers.
The 180° versatile ROOF mortorcycle helmet BOXXER 2 CARBON THIRTY is certified to the new E22-06 standard and ingeniously integrates the many patented ROOF technologies.

The ROOF BOXXER 2 CARBON offers thus a design with 5 optimized EPS densities, a know-how already used on our range of full-face motorcycle helmets.

In order to offer maximum freedom, the ROOF BOXXER 2 CARBON is predisposed to install an intercom kit of your choice.
An exclusive system patented by ROOF to meet the new E22-06 standard, the FleXLocker ROOF allows to lock, if needed, the chin bar in open position and integrates perfectly and aesthetically into the versatility of the helmet in open or closed position. The chin bar is held infallibly in its position to ensure the control of shoks where the protection is maximum.
The ROOF BOXXER 2 CARBON versatile motorcycle helmet offers a premium finish combined with cutting-edge technologies: reversible lip seal, high-end comfort and Silent Lining, active and passive defogging. The automatic locking of the chinbar and the one-handed sequential unlocking ensures fast and simple gesture while maintaining control of your two-wheeler.
Opt for a personalized fitting with the ROOF BOXXER 2 CARBON . The adaptability and customization of the comfort are ensured by cheek pads of different thicknesses available as accessories, but also by a clever and innovative system of additional foams (delivered as standard) in the lateral pockets inside the inner lining.
The versatile motorcycle helmet BOXXER 2 CARBON limited edition THIRTY titan comes standard with: