ROOF COMPANY
---
Since 1993, under the aegis of Claude Morin, ROOF is dedicated to high-tech helmets development to the protection and safety of the biker.
Our French brand stands out today by the creation of revolutionary technical concepts, the use of original and innovative materials, design helmets with original shapes and innovative design, adapted manufacturing, while all elements that constitute the philosophy even ROOF: be precursor, imagine, invented and develop helmets that you will wear tomorrow!
1 - HELMETS STORY

The first helmet proposed Claude Morin is Roadster : the first helmet with a window screen, a feature that makes case in point today. The brand reputation moved with the release of Boxer, undoubtedly the most iconic helmet brand! Modular first with its 180°rotating chinbar, Boxer will launch the success of the brand. After more than a million copies sold and with many improvements, BOXER has through the generations and remain a benchmark in modular category helmets.
20 years after BOXER's release, ROOF keeps the revolution on by giving birth to the BOXXER CARBON. Real mass of innovations, this huge novelty puts the codes of versatile helmets even higher. Showed at the EICMA Exhibition at Milan in 2017, the very enthusiastic welcoming of professional and public predicts a large success, on the traces of the BOXER…
Among the other helmets of our ranges, introducing our unavoidable DESMO is useless, as the first full face helmet 100% versatile, became a reference in touring helmets for all the riders looking for road trips and freedom. DESMO benefits from the latest technologies for an uncompromising style, it's about without doubt the helmet featuring the most advanced on-board mechanism.
The ROVER, enveloping jet equipped with an exclusive panoramic visor, and the COOPER, clever jet with two independent visors, convey the innovative and nonconformist spirit of ROOF brand.
Other strong products have contributed to the international fame of the brand :
REBEL : An entirely round full face ensuring exceptional protective qualities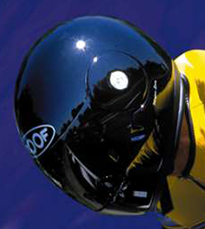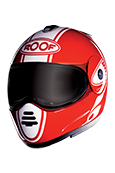 DIVERSION : Top of the range helmet with remarkable comfort and soundproofing
RACER : The racing full face, light with a large field of vision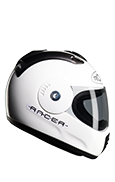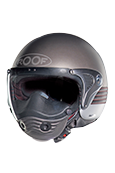 SPHAIR : Introduced in 2006, it was the first helmet ever featuring an interchangeable anti-pollution mask, with guided positioning
PANTHER :Like the feline, this full face helmet combines technology, aerodynamic and style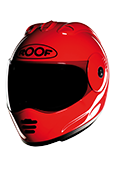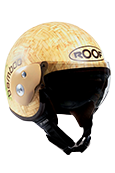 BAMBOO : The only helmet in the world fully conceived of natural bamboo fiber
2 - INNOVATION

Today still run by its founders Chantal and Claude Morin, Roof in this own building in Pégomas on the French Riviera between Cannes and Nice, includes all trades. A plurality of skills which today enables Roof control its products from conception to distribution. Roof is equipped with its own laboratory including machines trying needed to pass the different certifications that validate a helmet. This internal laboratory allows the service quality regularly monitor production. Roof has its own in-house research and development department which continues to exceed to offer bikers tomorrow adequate protection meeting the new standards increasingly demanding and developped technology.
3 -PRODUCTION SITE

Since 1993, manufacturing Roof was located in the south of France, but it was in 1999 that relations with Asian partners, especially the Vietnam intensifies. Known for its manufacturing know-how including sewing, Vietnam has quality and technical assets in line with the perspectives and expectations of society Roof.
ROOF in Vietnam currently has multiple skills such as paint, varnish, decoration installation, cutting assembly, quality control ...ROOF has forged significant partnerships that mesh associated with internal skills can meet the ongoing product developments.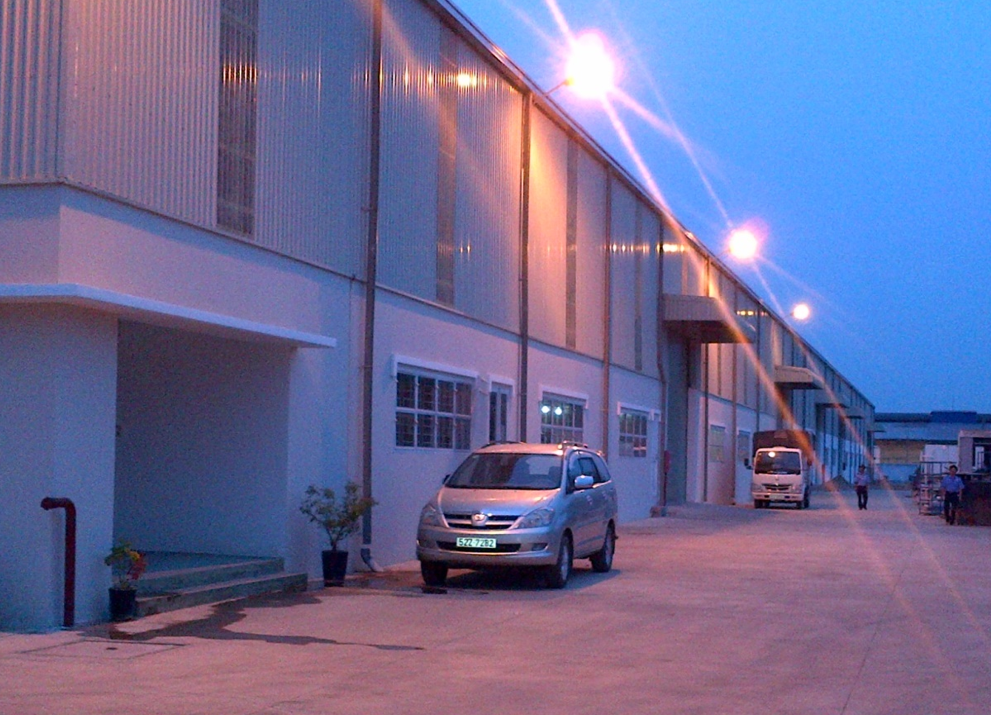 4- ROOF IN WORLDWIDE

Thus manufactured helmets are sent to France to be stored on our logistics platform and be shipped in different outlets in France via our distribution network where internationally through distributors. The presence of Roof is international From Japan to Mexico, through Suriname, Anstralia, Eastern Europe or North Africa, international expansion is growing. Already present in over 35 countries, there are many opportunities and our helmets are required everywhere, we strive to rapidly deploy our network so that everyone is accessing our helmets. If you want to join our network CLICK HERE.

-------------------------------------------------------------------------------------


REPORT ROOF MANUFACTURE IN VIETNAM BY PHILIPPE METZINGER AND NAM TRAN

-------------------------------------------------------------------------------------
Report in our ROOF manufacture in Vietnam. Philippe Metzinger and Nam Tran, creators of Royal Enfield Passion Youtube Channel have visited our ROOF manufacture. Discover our story, the story of our founder, Claude Morin and immerse yourself in the world of our manufacture and our know-how with our teams! Have a good trip inside our french company!